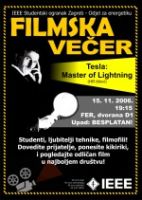 On Tuesday, 14.11.2006, the movie Tesla - master of lightning was shown in the D1 auditorium. Attendance was excellent, D1 was filled with more people than during most lectures. About 150 people attended, mostly FER students, however, students from other faculties, such as agronomy, couldn't resist attending this spectacle either.
We hope you had a lot of fun and that you'll come again.
You can soon expect a somewhat more detailed report with pictures. Please continue visiting our web in search for cool new events that we are preparing for you.

Thank you all for coming, especially those who helped with the organization of this event.

Pictures added in the details!