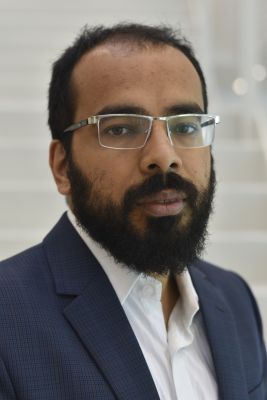 Zavod za visoki napon i energetiku (FER) i Odjel za elektroenergetiku (PES) te Hrvatska sekcija IEEE-a pozivaju Vas na predavanje:
"Photovoltaics (PV) hosting capacity of low voltage distribution system considering uncertainties"
koje će održati dr. sc. Arpan Koaira, istraživač s Electrical Energy Systems and Applications (ELECTA), KU Leuven, Belgija
Predavanja će se održati u četvrtak, 13. travnja 2023. godine u 17:00 sati u Sivoj vijećnici FER-a.
Ukupno predvidivo trajanje predavanja je 60 minuta, a odvijat će se na engleskom jeziku. Predavanje je otvoreno za sve zainteresirane, a posebno pozivamo djelatnike, studente, istraživače te kolege iz industrije koje zanima ova vrlo aktualna tema.
Sažetak predavanja i životopis predavača možete pronaći u nastavku obavijesti.
Arpan Koirala (Student Member, IEEE) received the master's degree under the Erasmus Mundus Master Course in Sustainable Transportation and Electrical Power Systems from the consortium of the University of Oviedo, Gijón, Spain, La Sapienza, Rome, Italy, University of Nottingham, Nottingham, U.K., and Polytechnic Institute of Coimbra, Coimbra, Portugal, in 2018. In 2023, he obtained his PhD, from the KU Leuven., Belgium. His research interests include stochastic programming, optimization, distribution system modelling, energy market, and high-scale integration of renewable resources.
Abstract:
The increased penetration of renewable resources, such as photovoltaics (PV) and new loads, such as electric vehicles (EV) and heat pumps (HP), have increased uncertainty levels in the low voltage distribution system (LVDS). The traditional approach to planning such LVDS is the conservative ``fit and forget'' approach investing for the worst-case scenario, which means installing a lot of additional infrastructure. However, considering LVDS planning as a stochastic problem is deemed more efficient, reducing grid infrastructure investment cost. Determining the PV hosting capacity (HC) is one such planning problem, yielding the capacity of the system to incorporate new PV resources. Stochastic HC calculations are currently done using computationally expensive, iterative Monte Carlo (MC) based methods, which require solving the power flow equations thousands of times for each iteration of the PV installation scenario. To calculate the PV HC of a large service area consisting of thousands of LV feeders, a computationally tractable and accurate probabilistic power flow (PPF) tool is required. Various approaches exist to make MC-based iterative HC calculation method computationally more efficient, e.g., linearizing the power flow equations, replacing some of the uncertain variables with deterministic values, etc. Alternatively, MC-based methods can be replaced by faster analytic methods, or the iterative HC calculation method can be replaced by stochastic optimization. In this talk various approach to calculate PV HC of LVDS considering uncertainties will be discussed.
Popis obavijesti