Young Professionals Affinity group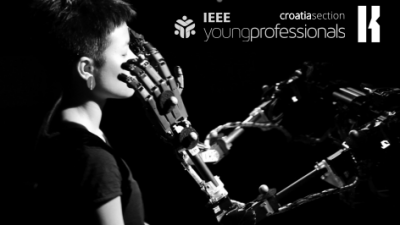 U suradnji s udrugom Kontejner, IEEE Young Professionals Hrvatska poziva vas na predavanje s nazivom
"Inferno and Performativity in Robotic Art",
koje će održati profesori Bill Vorn (Concordia University, Montreal) i Louis-Philippe Demers (Nanyang Technological University, Singapur) u četvrtak 24. rujna u 17h u Sivoj vijećnici. Predavanje će predstaviti tehničo-umjetničku stranu njihovog zajedničkog performansa "Inferno" koji će se odviti u sklopu Device Art 2015 festivala na Gornjem gradu 24. rujna do 4. listopada. Više informacija o predavanju i predavačima te nekoliko fotografija možete pronaći u nastavku obavijesti.
Inferno by Louis-Philippe Demers & Bill Vorn
Inferno is a robotic performance project by Philippe Demers and Bill Vorn. The specificity of this performance project resides in the fact that the different machines involved in the show will be installed on the viewers' body. The public will then become an active part of the performance. Depending of the kind of mechanism that they will be wearing, the viewers will be free to move or they will be in a partial or entire submission position, forced by the machines to act/react in a certain way. Some mechanical structures will coerce the viewers in performing certain movements; others will induce a physical reaction from them.
During the performance, the symbiotic robots will certainly not induce pain but rather invoke a bodily experience that entails the eternal process of the punishment. The establishment of a subsumed body at the mercy of an invisible punisher chimes with our anxiety of the utopian or dystopian views of our existences under the control of a machine.
U programu Device Art 2015 festivala - subota, 26. rujna u 20:30 na Platou Gradec.
Bill Vorn
Based in Montreal, Bill Vorn is active in the field of Robotic Art since 1992. His installation and performance projects involve robotics and motion control, sound, lighting, video and cybernetic processes. He pursues research and creation on Artificial Life and Agent Technologies through artistic work based on the Aesthetics of Artificial Behaviors.
He holds a Ph.D. degree in Communication Studies from UQAM (Montreal) for his thesis on Artificial Life as a Media. He teaches Electronic Arts in the Department of Studio Arts at Concordia University (Intermedia/Cyberarts program) where he holds the rank of Full Professor.
His work has been presented in multiple international events, including Ars Electronica, ISEA, DEAF, Sonar, Art Futura, EMAF and Artec. He has been awarded the Vida 2.0 award (1999, Madrid), the Leprecon Award for Interactivity (1998, New York), the Prix Ars Electronica Distinction award (1996, Linz) and the International Digital Media Award (1996, Toronto). He has worked in collaboration with many canadian artists (including Edouard Lock, Robert Lepage, Gilles Maheu, LP Demers and Istvan Kantor). He was cofounder of the electronic pop music band Rational Youth with Tracy Howe in 1981.
Louis-Philippe Demers
Louis-Philippe Demers combines several profiles: Artist, Freelance Designer, Professor, Researcher and Entrepreneur. He is a multidisciplinary artist using machines as media. He worked on the conception and production of several large-scale interactive robotic installations, so far realizing more than 225 machines. His robotics works could be found in theatre, opera, subway stations, art museums, science museums, music events and trade shows. As a freelance designer, he develops, conceives and realizes interactive systems. He participated in more than seventy artistic and stage productions while collaborating with recognised artists such as: Bill Vorn, Christian Möller, Stelarc, Robert Lepage, Peter Gabriel and Le Cirque du Soleil.
His works have been primed with several prizes and featured at major international venues such as Lille 2004, Expo 92, Expo 2000, Sonambiente, ISEA, SIGGRAPH and Sonar. He received three Interactive Kunst prizes Ars Electronica (Distinction 96) and one honourable mention in digital musics in 2005. He received the first prize of artificial life Vida2.0 and the prize for Interactive Lighting at Lightforms 98. His latest work, Devolution, received six prizes in 2006 including the Ruby Innovation award in South Australia, Outstanding Performance from Australian Dance Awards and two Helpmann Awards, the Australian equivalent of the Broadway's Tony.
From 1994 to 1998, he was the president of Kunst Macchina Production Company; a group specialized in the commercialization and the R&D of software solutions for the entertainment. From 2001 to 2005, Demers was a Full Professor of Digital Media and Exhibit Design at the Hochschule fuer Gestaltung affiliated to the world renowned ZKM (Zentrum fuer Kunst und Medientechnologie). In late 2006, Demers joined NTU at the Interaction and Entertainment Research Centre. Since june 2008, Demers became the Associate Chair Research at the School of Art, Design and Media.
Popis obavijesti